---
Located in the Eastern suburbs of Cleveland......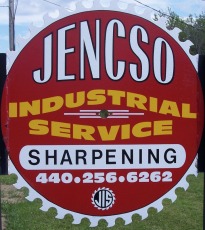 Headquarters
.......on State Route 6 just east of State Route 306 in Lake County Ohio.
Jencso Industrial Service, Inc. Phone 440.256.6262
8610 Euclid Chardon Rd. Fax 440.256.6263
Kirtland, OH 44094 E-mail sharpen@jencso.com
Open 8am to 5pm Monday - Friday, and Wednesdays until 7pm (EST).
---
INFORMATION


History: Founded by the late George Jencso in 1958, operations continue with his
daughter Rosemary and grandsons Paul and Tim Balazs. We have
been incorporated and operated since 1960 as a family owned business.

Terms: 1) Cash, check, credit card.
2) Accounts available upon credit approval.

Orders: There is no minimum order.

Shipments: FOB Kirtland, Ohio.
All shipments will be made via UPS, USPS or FedEx unless otherwise specified.
Next day delivery available for an extra charge.
We reserve the right to make partial shipments.
Weekly pickup & delivery available to certain locations.

Returns: If shipped, call for authorization first.
Receipt must accompany all returned items.
Special orders will require a restocking fee.

Prices: Prices are subject to change without notice.

Sharpening: Turn-around time is typically one week.
Same day service is 2 times standard rate.
Next day service is 1.5 times standard rate.

Referrals: Send us a new customer and receive 20% off your next sharpening order.

Hours: Monday through Friday 8AM to 5PM, Wednesdays until 7PM (EST).


Thank you for your business!